...Ever get that feeling that you have Things to Do but are completely lacking the motivation to Do them...?
I have Sunday Evening Ennui, today, friends -- I have a choral evensong rehearsal in two hours followed by an hour's service (thereabouts), sopping laundry to hang up, hair to wash, papers to file, a book to keep editing, a book to keep writing (which is being
sorely
neglected these days) ... And what am I doing now? Complaining on here.
Sorry. Enough of this. I do think my life balance needs to be redressed again soon though... Ooh, Bank Holiday next weekend. Yeah, that'll do it.
---
This week, I have mostly been...
Reading | Ethan Frome by Edith Wharton
Because sometimes a gal needs a slimline classic.
I love Wharton's writing, it's both classic and accessible. I'm yet to read
The Age of Innocence
but I loved
The House of Mirth
, not to mention the film adaptation (although I'll watch anything Gillian Anderson rocks up in, in all honesty).
I'm also reading and editing my friend Georgina's account of her life in Spain, which is a terrific exercise for me as an editor more used to children's books.
Playing | Tetris Blitz on the tablet
It's my guilty pleasure. It's also massively therapeutic. To quote
Sex and the City
's Miranda Hobbes, "It's my thing, let it go." It's my Candy Crush Saga. But about twenty years behind the times. Of course.
And speaking of,
Rewatching | Sex and the City
I'd like to say this is primarily research for the NYC trip in...
squee
, just under four months! And it is. But it's also delicious, indulgent brain candy.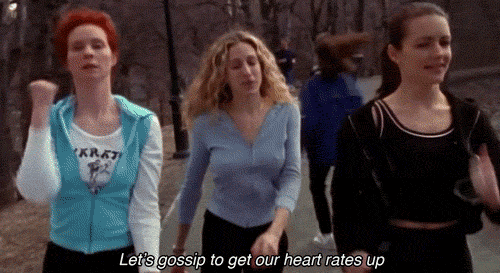 Who
doesn't
want to deliver Carrie a swift slap for cheating on Aidan with Big though? Even now?!
Who
cheats on Aidan, possibly
the
loveliest man ever committed to the small screen?! Devoted and creative... and the straggly mullet
did
disappear eventually.
Singing | a cappella
Yesterday we finished learning the
a cappella
piece we've been learning in a subset of Voicerox Choir. It really is quite a discipline to sing unaccompanied
and
maintain the tuning and dynamics.
We're so nearly there.
---
Your
Weekly Weblinks
Author Ann Cleeves:
Libraries need qualified staff
Author Rachel Joyce:
Authors should support Independent Booksellers Week
Caitlin Moran:
'Sexy' books important for teenagers
Frozen-mania -- for the love of an emo Disney Princess
LEGO wildlife garden in pictures
And finally, Orazio Gentileschi 'Rest on the Flight into Egypt' recreated as an edible masterpiece:
The original:
Over and out, until the next time...